Richard Heart's HEX remains one of the best performers during the last 7 days. HEX has seen an increase upwards of 20 percent for the day and almost 25 percent for the week, now standing at the number #55 largest cryptocurrency based on marketcap provided by coinpaprika.
The last few days have seen serious price action, with the majority of cryptocurrency experienced a decline in this pandemic situation. The serious uptick was marked by HEX rally on Friday, briefly unseating Cryptonex and Kyber Network as the 55th and 56th positions in the cryptocurrency marketcap rank on coinpaprika.
HEX also managed to amass some serious gains during the last few days, and it continues to trade in the green. The cryptocurrency is now sitting at number 55th and it has gained a total of about 25 percent in the last seven days. For the last 24 hours at the time of writing, alone HEX is up with about 20 percent which is simply amazing and a very good news to hear for HEX's community.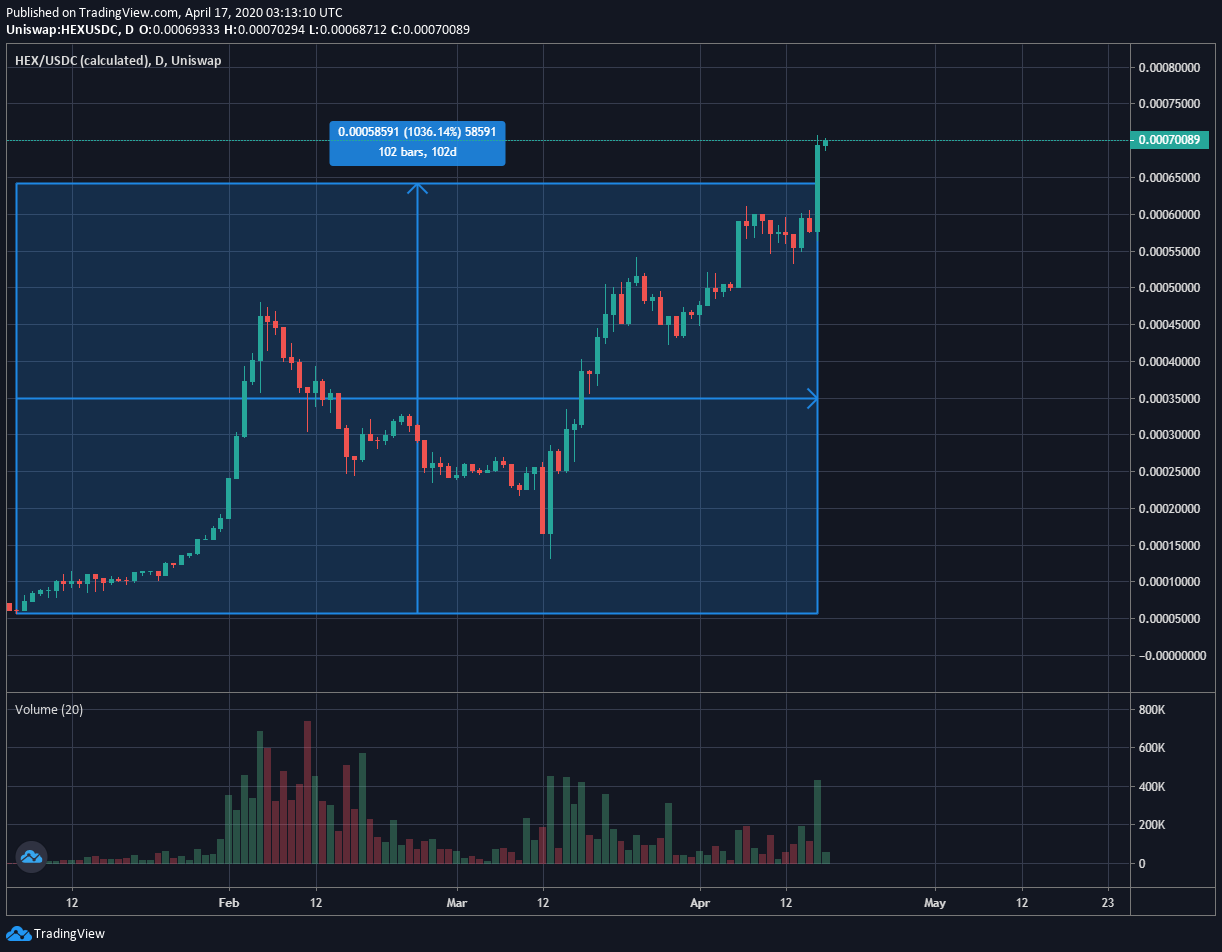 Taking a look at the HEX chart above, we can see that HEX had rebounded from its low on March 13th, 2020 at $0.00013196 and started to climb higher and higher. HEX break above $0.0007 yesterday then went on to reach a high of $0.00070752 today April 17th, 2020. This price chart looks like no other ever seen including Bitcoin, It's simply a beautiful chart made by Richard Heart's HEX. This might be the automatic market maker dynamics. The HEX Liquidity reaches $8.6 Million with 23k Ethereum bid support (count only on UniSwap Exchange). Even better HEX has the most on-chain exchange liquidity of any coin in the world except for ETH and stable coins.
HEX Flies to #55 Marketcap, Moves Up 29 Places in Less than A Month!
HEX experienced a surge of almost 25 percent over the past week. The move enabled Richard Heart's Blockchain Certificate of Deposit creation to surpass Kyber Network as 55th by market capitalization. HEX is now sitting in the number #55 spot with a market cap of about $95 million compared to Kyber's $85 million. The data provided by Coinpaprika.com.
As such, HEX has experienced one of the most impressive rises when the entire crypto market broke in today's situation. At the time, its marketcap flies 29 places in less than one month. HEX price exploded 13x vs Bitcoin from the all-time the low of 0.76 satBTC, HEX has made 13x vs BTC to reach 9.84 satBTC. In dollar terms, the gains are similar which is 12.32 times from its all-time low.
HEX is Dominating All the Top Coins!
For quite some time now, the community confidence in the very promising HEX is rising exponentially as the 55th positioned cryptocurrency by market capitalization per time of writing $95 million is leading by the price increase. On Friday, April 17th as reported on HEX Channel and Twitter while other coins experience movements that tend to stagnate and even go down the HEX goes in the opposite direction. HEX reached a 610% gain as in the chart below.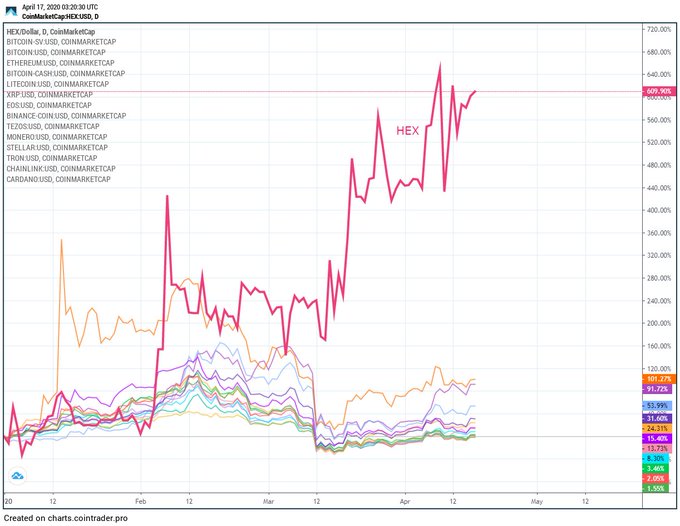 HEX is showcasing a unique gaining pattern in comparison to the cryptos, even the leader Bitcoin, by reaching 610 percent gains. Obviously, the important HEX's bid support will be playing a major role if it holds ground. Like Coinpress Media mentioned in the previous episode of unstoppable HEX, one big reason why the HEX price keeps rising which leads to the improvement of HEX market cap ranking is that the HEX has the community to back its market performance. HODLer and of course Stakers are still optimistic of more gains. The trust and support which continues to increase from the community it is playing a vital role in opening gates for more return in the present price development.
Join HEX's chat community to know more about HEX and get closer to Richard Heart. He's there with the community. Join here: https://t.me/HEXcrypto. Find updates about HEX on their telegram channel here: https://t.me/HEXnews.
More info about HEX: https://hex.win/